A to Z Anthology
As the Society no longer produces newsletters, we will post occasional items of interest here.
Topics will be chosen at random.
Your contributions are welcome.
F is for Fairy Folk
Fairyland is generally associated with Wedgwood. However, Maling made the occasional foray into the enchanted forest, guided by designer Lucien E Boullemier.
On the left we see three examples of his work. They are hand-painted on "blank" items intended to be used as dressing table trays and are presumed to be one-offs. The lower plaque is from the Soho Pottery, Cobridge, where LEB worked prior to joining Maling in 1926. This is confirmed by LEB's grandson, Tony, who recollects it hanging in the family home.
There is speculation that these pieces may have been influenced by Victorian fantasy artists such as Richard Dadd, but we can't confirm it. Tony suggests a connection to the classical "putto" or cherub. He observes: "LEB may have decided to take the Boullemier cherubs a bit further forward by portraying them when they're older. And, in the case of the three ovals, they seem to be females rather than the male cherubs that he and his father Anton predominantly painted.".
On the right are two other LEB designs for Maling. These transfer-printed pieces date from c1930 and were made for public sale - a spill holder and a baby's plate. (We are not aware of fairies at the bottom of any jardiniere.)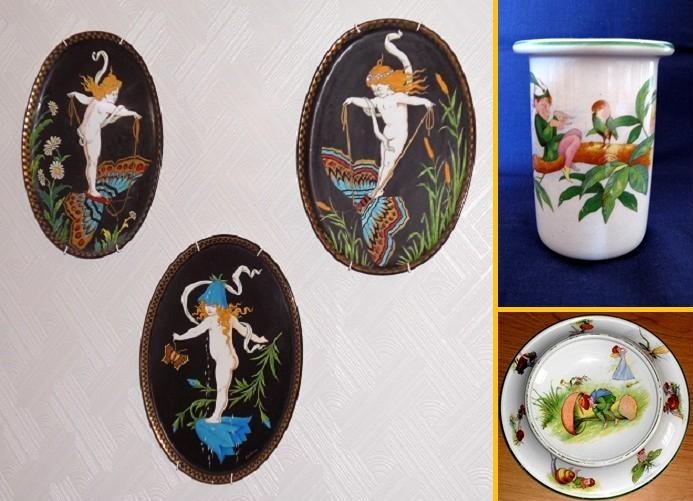 "I think, at a child's birth, if a mother could ask a fairy godmother to endow it with the most useful gift,
that gift should be curiosity." - Eleanor Roosevelt
In other words, we aim not to lecture, but to help you teach yourselves.
Want more Alphabet Soup?
Anyone for Second Helpings?
Indulge in our Potage à Trois