A to Z Anthology
As the Society no longer produces newsletters, we will post occasional items of interest here.
Topics will be chosen at random.
Your contributions are welcome.
H is for Harrods
If your wares are good enough to sit on the shelves of Harrods, you know you've hit the big time. And Maling did just that with items such as this teapot - c1900-1910.
Steven records this anecdote in TMOE: "A Tyneside woman, unable to buy the smart new toilet set that she wanted in her home town, travelled to London to obtain one but was astonished to find, on receipt of the set, that it had been made in Newcastle".
If customers wanted china rather than pottery, Maling imported it from Staffordshire factories (e.g. Collingwood) and Limoges in blank - i.e. undecorated - form. This china was then decorated in Newcastle and sold on under the Maling name.
The Harrods mark is sometimes accompanied by a CTM triangle or castle mark - but not always (see below). You'll have to learn your shapes and patterns. Our search engine will help you.
More retailers' marks in newsletter 16. We'd like to hear your memories of any of these stores.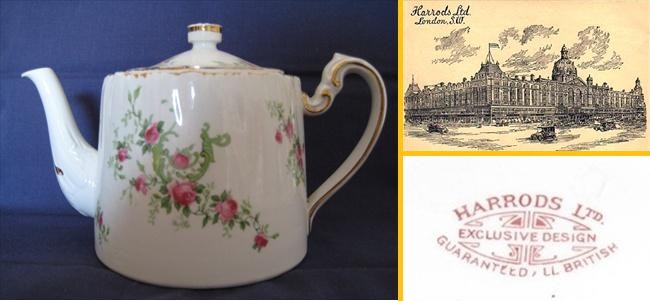 Maling tea sets were also used in Harrods' "Refreshment Department".
(That's the caff to plebs like us - not that we'd be allowed in there.)
There's an example in newsletter 26.
Want more Alphabet Soup?
Anyone for Second Helpings?
Indulge in our Potage à Trois