A to Z Anthology
As the Society no longer produces newsletters, we will post occasional items of interest here.
Topics will be chosen at random.
Your contributions are welcome.
R is for Recycling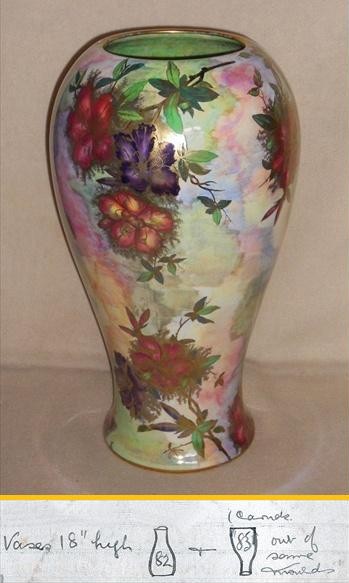 Maling were keen on recycling - particularly when it brought them an easy profit! Thus, old designs were frequently resurrected, re-worked and sold to a new generation of customers. An example appears on page 13 of the History section.
Here we have a different example of recycling, in the form of a No. 83 shape vase in "Azalea" pattern. We were led to the sketch at the bottom of the photo by the Tyne & Wear Museums Service.
It dates to 1933 and shows this is a No. 82 shape vase turned upside down - we think the note says: "ea(ch) made out of same moulds". Two for the price of one!
The No. 82 mould must have had a wide base, while a new and narrower base would have been created for No. 83.
If all this sounds confusing, we take you through the intricacies of moulds and the casting process in our free video (see menu on left).
You've probably heard of pottery being "turned" - but not like this!
Want more Alphabet Soup?
Anyone for Second Helpings?
Indulge in our Potage à Trois