A to Z Anthology
As the Society no longer produces newsletters, we will post occasional items of interest here.
Topics will be chosen at random.
Your contributions are welcome.
D is for Dogs
"The world is full of obvious things which nobody by any chance ever observes."
Sherlock Holmes - The Hound of the Baskervilles.
No… we haven't gone barking mad, nor do we have any bones to pick with fellow enthusiasts. We are merely attempting to draw your attention to our Maling four-legged friends.
Here are four examples of Art Deco canine treasures. On the left (top) we see an ashtray and a printed transfer with added hand colouring of a Border terrier. Below comes "Snip" the Scottie dog who was modelled from life, by Norman Carling (1902-1971) from the dog that belonged to Mrs Graham, Mr CT Maling's housekeeper.
On the right (top) is a blancmange mould showing what we believe to be a West Highland terrier. Below is another ashtray with a combination of patterns in printed transfers, known as "Olde English Hunting Scenes". Here the hunting hounds are shown in full action and, as we try to pack in as much info as possible for you, more on the hunting connection is available in newsletters 24 and 25.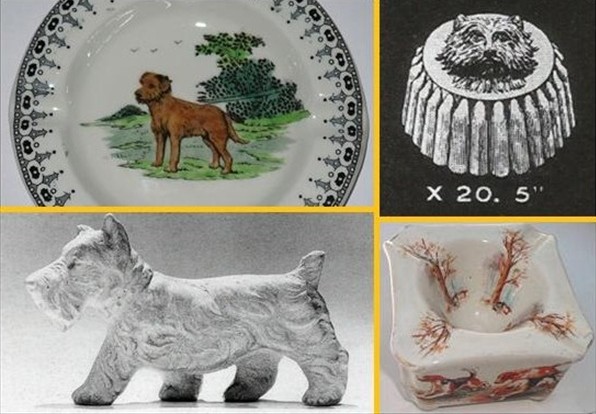 When faced with a problem, we sniff around until we get to the bottom of things.
Dogs do something similar, but not with Maling.
Want more Alphabet Soup?
Anyone for Second Helpings?
Indulge in our Potage à Trois