A to Z Anthology
As the Society no longer produces newsletters, we will post occasional items of interest here.
Topics will be chosen at random.
Your contributions are welcome.
P is for Pheasants... and other phings
Three for the price of one as we answer this query:
"After a blissful quest in a Swedish thrift store, I found a very large tea cup with a beautiful blue pattern. Do you happen to know more? And what is it called?"
It's 'Asiatic Pheasant' - not exclusive to Maling and probably the second most popular British blue-and-white pottery design after 'Willow' pattern. Sources say that it was almost certainly designed by Ralph Hall of Swan Bank Pottery, Tunstall, Staffordshire, active from 1822 to 1849.
Both these Maling pieces are much later in date - 20th century. On the right we have 'Pheasant, Old Gold' - a typical example of the pottery re-working an old pattern to suit changing tastes. The large cup and saucer are known as 'Jumbo' ware (for obvious reasons). More on this in newsletter 16. So that's your first bonus letter - "J" for Jumbo.
"Why Sweden?" you may ask. The Maling family had several business interests. TMOE notes: "William Maling's ships could set sail from Sunderland laden with pottery that had been fired with coal from his collieries, they could then return from Scandinavian ports laden with timber for use in his timber yard". So the Nordic connection was established a long way back in time. And that's your second bonus letter - "E" for Exports.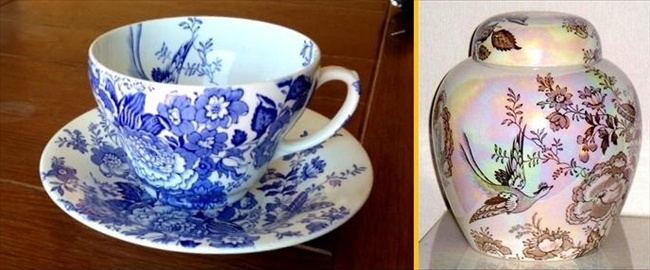 "My friends have tempted me by a succession of pheasants..." - Dr Johnson to Mrs Thrale, Nov 1, 1783.
We trust his friends were pheasant pluckers and didn't leave the job to him.
That would have distracted this respected man of letters from more important work.
Want more Alphabet Soup?
Anyone for Second Helpings?
Indulge in our Potage à Trois