A to Z Anthology
As the Society no longer produces newsletters, we will post occasional items of interest here.
Topics will be chosen at random.
Your contributions are welcome.
T is for Time, Toddlers and Theo
Einstein observed: "The only reason for time is so that everything doesn't happen at once". So a baby senses that teatime is followed by bathtime and bedtime. The toddler doesn't know that "T" also stands for Theo Maling.
Many collectors aspire to own a piece designed and decorated by Miss Theo, but the family seem to have taken a more down-to-earth attitude, as these childhood memories show.
Theo's niece remembers visiting her aunt for afternoon tea and being served biscuits from the plate on the left. Another relative recollects a loving cup, similar to the one on the right, sitting in the bathroom of her parents' home. It was used for rinsing her hair after a shampoo.
See "U is for Used" for more on this theme. More on Miss Theo in newsletters 28 and 30.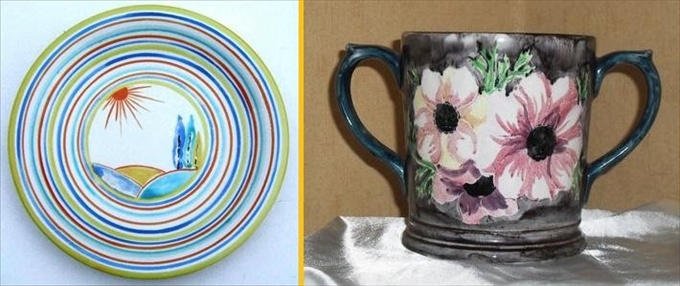 We remain reluctant to do "T is for Toilet".
So you will have to settle for a tale about a shampoo, not a real one.
Want more Alphabet Soup?
Anyone for Second Helpings?
Indulge in our Potage à Trois