A to Z Anthology
As the Society no longer produces newsletters, we will post occasional items of interest here.
Topics will be chosen at random.
Your contributions are welcome.
P is for Punts, Pits and Plates
You may have a punt on the gee-gees or a punt on the river. As we are feeling generous, we offer you both.
"Byker Hill and Walker Shore, collier lads for evermore" - a famous chorus line from a traditional Geordie folk song, often sung by local miners at holidays and festive times. One such holiday period, known locally as Race Week (last week in June) was when the Pitman's Derby, a two mile flat handicap horse race, took place at Gosforth Park.
The race is now known as the Northumberland Plate*.
Maling factory workers had their very own Pitman's Derby but this referred to a Chinese-influenced design, officially known as "Ming & Chang" (as it is listed in catalogues) and not to any horse race. Local mine workers of the day simply couldn't afford the high quality and expensive "posh" Derby porcelain on offer, but they could afford Maling's colourful and much cheaper imitation.
Miners' homes of the North East of England were once adorned with such pieces and it is worth noting that two versions of Maling's Pitman's Derby appear to exist from circa 1900. Pattern 7609 (man on punt, left) is similar to, but somewhat more elaborate than, pattern 7507 (man on bridge, right).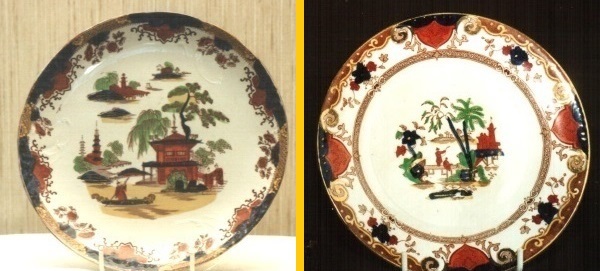 *Thanks to Maling, you too may have a Northumberland plate.
Newcastle didn't leave that county until the creation of Tyne and Wear in 1974.
Want more Alphabet Soup?
Anyone for Second Helpings?
Indulge in our Potage à Trois