A to Z Anthology
As the Society no longer produces newsletters, we will post occasional items of interest here.
Topics will be chosen at random.
Your contributions are welcome.
L is for Local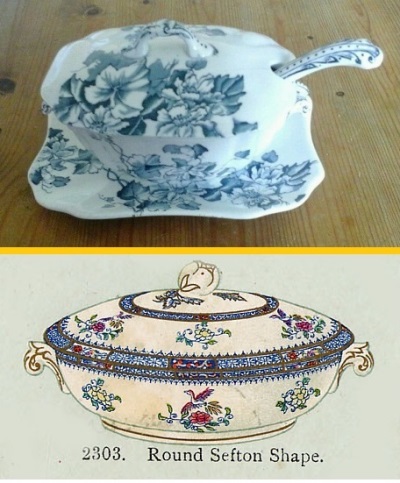 "There's no place like home." - Dorothy Gale
We find the A to Z guide to Newcastle to be a bit of a page-turner but confess that we have never managed to read it all the way through. So we present our condensed version based on Maling-related place names.
"Jesmond" (top), a pattern registered in 1893, is a residential suburb just north of the centre of Newcastle upon Tyne.
"Benton", a border pattern, is a district 4 miles to the north east.
"Wylam" is a small village 10 miles to the west.
Pottery shapes also have local connections, with "Gosforth", "Hexham" and "Sefton" to name but a few.
Interestingly, the "Sefton" shape, introduced in 1922, was named after Sefton Avenue in Heaton, Newcastle, where the firm's designer, Harry Clifford Toft had lived.
The word "local" can also refer to your neighbourhood hostelry. Back in the day, you could quaff a bottle of Newky Brown while stubbing out your cigs in a Maling-made ashtray bearing the ale's trademark of a blue star. As we shun political correctness, other drinking and smoking references may be found on this site.
Want more Alphabet Soup?
Anyone for Second Helpings?
Indulge in our Potage à Trois