A to Z Anthology
As the Society no longer produces newsletters, we will post occasional items of interest here.
Topics will be chosen at random.
Your contributions are welcome.
P is for Plastered
Modeller Norman Carling and engraver Cecil Parker left Maling Pottery in 1946 to establish their own business - Plasta Crafts - making plaster decorative ornaments. (See newsletters 22 and 23).
They specialised in relief-moulded plaques and tankards celebrating life in the North - from Cumbrian huntsman John Peel to Newcastle's Blaydon Races. Most of these are plain brown and can often be identified either by the signature of the maker or by a logo of the intertwined letters P and C.
Coloured items also exist. On the left we see a plaque, dated 1953, showing Grey's Monument which stands at the head of Grey Street in Newcastle. It honours the second Earl Grey (1764-1845) of Howick Hall, Northumberland, who was Prime Minister at the time of the passing of the Great Reform Bill in 1832.
On the right we have another plaque known as "Fishermen". If you would like to catch much more about our Norman heritage, see newsletter 39.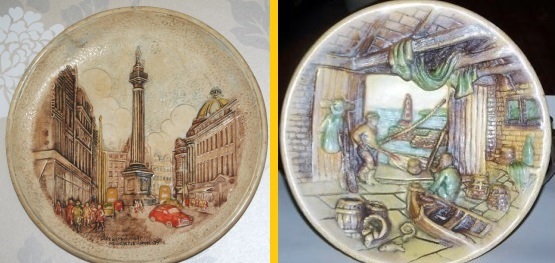 "For this relief, much thanks" - Francisco (Hamlet, Act I, Scene I)
Want more Alphabet Soup?
Anyone for Second Helpings?
Indulge in our Potage à Trois