A to Z Anthology
As the Society no longer produces newsletters, we will post occasional items of interest here.
Topics will be chosen at random.
Your contributions are welcome.
M is for Misread Mark (not Maling)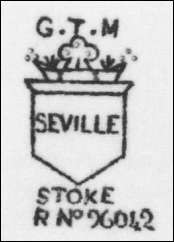 If you want good marks,
we have a page of them.
We were surprised to see an eBay vendor offering a piece, bearing a mark similar to this, as being by "CT Maling of Stoke". When we pointed out that Maling had never operated a pottery in Staffordshire, we received this response: "As a very experienced English teacher, I do not usually make misunderstand (sic) what I read, but I admit to only having studied pottery and china marks for about 20 years".
Our team has some two centuries of experience, including working at, collecting, researching and writing about Maling. To put our belief to the test, we consulted "British Pottery and Porcelain Marks" by Geoffrey A Godden. The book confirms that this mark is not C.T.M but G.T.M, which stands for George T Mountford of the Alexander Pottery, Stoke.
We suggest that our English teacher refresh his/her knowledge of poet Alexander Pope: "A little learning is a dangerous thing...".
Want more Alphabet Soup?
Anyone for Second Helpings?
Indulge in our Potage à Trois